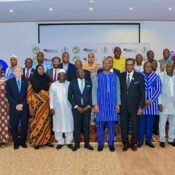 The West Africa Association of Public Accounts Committees (WAAPAC) came into being in February 2009, when participants at a seminar organized by The World Bank Institute (WBI) in partnership with the Commonwealth Parliamentary Association (CPA) and the Parliamentary Centre (PC) for Public Accounts Committees (PACs) made a resolution to have a West – African sub-regional association of PACs.
The Legislatures of Cameroon, The Gambia, Ghana, Nigeria, Liberia and Sierra Leone were represented at this seminar. WAAPAC was born out of the realization that with a common platform for knowledge exchange and peer learning, PACs would be able to build and enhance their capacities to effectively perform their oversight roles.
Since its formation in 2009, WAAPAC has consistently and successfully held an accountability conference each year, bringing together PACs and Supreme Audit Institutions from within the West African sub region and beyond, to learn and share ideas and experiences on best practices in conducting parliamentary oversight over the Executive. The 2011 conference held in Togo saw the admission of a number of Francophone countries into the Association.